(High Court, Keehan J, 23 May 2018)
Public law children – Care proceedings – Mother suffering from terminal illness – Local authority accommodating children pursuant to s 20 CA 1989 – Interim arrangements – s 31(2) CA 1989 threshold criteria
The court dismissed he care proceedings and made the children wards of the court.
---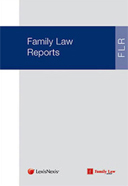 For comprehensive, judicially approved coverage of every important Family Division, Court of Appeal, Supreme Court and European courts case, subscribe to Family Law Reports.
Subscribers can

 

log in here.
Find out more
 or 
request a free 1-week trial
 of the Family Law Reports. Please quote: 100482. 
---
Neutral Citation Number: [2018] EWHC 1960 (Fam)

Case No: LEI7C00815
IN THE HIGH COURT OF JUSTICE
FAMILY DIVISION



Courtroom: 41
1st Mezzanine, Queen's Building
The Royal Courts of Justice
Strand
London
WC2A 2LL
Wednesday, 23rd May 2018
Before:
THE HONOURABLE MR JUSTICE KEEHAN
B E T W E E N:
LEICESTER CITY COUNCIL
v
AB,
CD
And EF and GH
(Children represented through their Children's Guardian)
MS K SKELLORN QC and MS J ECOB (instructed by Leicester City Council) appeared on behalf of the Applicant
MS B CONNOLLY QC and MS U SOOD (instructed by Scutt Beaumont Solicitors LTD) appeared on behalf of the First Respondent AB
NO APPEARANCE by or on behalf of the Second Respondent CD
MS P HOWE QC and MS F COOIL (instructed by The Smith Partnership Solicitors LLP) appeared on behalf of the Guardian
JUDGMENT
(Approved and Anonymised)
This judgment was delivered in private. The judge has given leave for this version of the judgment to be published on condition that (irrespective of what is contained in the judgment) in any published version of the judgment the anonymity of the children and members of their family must be strictly preserved. All persons, including representatives of the media, must ensure that this condition is strictly complied with. Failure to do so will be a contempt of court.

Judgment: 
LCC v AB and Ors [2018] EWHC 1960 (Fam).rtf