Helen Adam, Wells Family Mediation
We are increasingly aware in our society of the importance of appropriate language; for example we are removing gender-biased and racist language from everyday speech. We recognise that using biased language can reinforce biased thinking. But there remain areas in which the power of language to influence thought and behaviour has not yet been properly appreciated. This article concerns the use of the language of aggression and conflict in the context of family breakdown and argues that it is time for change.
Over the last 50 years, there have been radical changes in society to family and relationships. We have moved from a society where 'children shall be seen and not heard' to the modern-day emphasis on the 'voice of the child'. Furthermore, we now know that children are harmed by continuing parental conflict, which was either unknown or not considered relevant for much of the last century when divorce was conducted as litigation.

Yet we still carry the unfortunate legacy that family breakdown is litigation, conducted by litigators and requiring litigious vocabulary.
A new language around family breakdown is needed to ensure safety and protect children of parents who separate. If that is to happen then we, the family professionals, must lead the way to help politicians, the press, the public and ultimately the parents who separate understand a safer approach when parents live apart.

Quoting Orwell's famous 1946 essay Politics and the English Language, we must not let the language currently used for the family justice system think society's thoughts for it. A new language is needed and now is the time for change.
---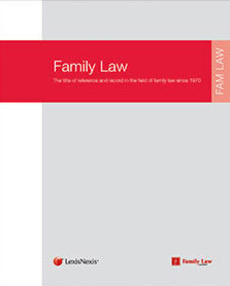 The full article will be published in the August issue of
Family Law
.
Find out more or request a free 1-week trial of Family Law journal. Please quote: 100482.
---