(Court of Appeal, Peter Jackson, Newey and Singh LJJ, 20 December 2017)
Private law children – Relocation – Appeal
The appeal in relocation proceedings was allowed and the decision of the trial judge, refusing the mother's application to relocate was restored.
---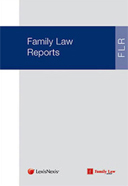 For comprehensive, judicially approved coverage of every important Family Division, Court of Appeal, Supreme Court and European courts case, subscribe to Family Law Reports.
Subscribers can

 

log in here.
Find out more
 or 
request a free 1-week trial
 of the Family Law Reports. Please quote: 100482. 
---
Case No: B4/2017/2473
Neutral Citation Number: [2017] EWCA Civ 2121
IN THE COURT OF APPEAL (CIVIL DIVISION)
ON APPEAL FROM MS JUSTICE RUSSELL

2017/0021; OX16P00167

Royal Courts of Justice
Strand, London, WC2A 2LL
Date: 20/12/2017
Before :

LORD JUSTICE PETER JACKSON
LORD JUSTICE NEWEY
and
LORD JUSTICE SINGH

- - - - - - - - - - - - - - - - - - - - -
Between :
L
Appellant
- and -
F
Respondent
- - - - - - - - - - - - - - - - - - - - -
- - - - - - - - - - - - - - - - - - - - -
Damian Garrido QC and Rob George (Bar Pro Bono Unit) for the Appellant
Michael Bailey (Direct Access) for the Respondent

Hearing date : 7 December 2017
- - - - - - - - - - - - - - - - - - - - -

JUDGMENT

Judgment: 
Lv F [2017] EWCA Civ 2121.rtf