(Court of Appeal, King Newey and MacDonald LJJ, 14 June 2018)
Jurisdiction – Divorce – Domicile – Whether the wife was domiciled in England for the purposes of s 5(2) Domicile and Matrimonial Proceedings Act 1973
The Court of Appeal found that the wife had provided no evidence to demonstrate an intention to reside permanently or indefinitely in England during her periods of residence in the country.


---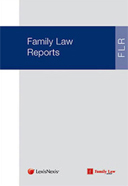 For comprehensive, judicially approved coverage of every important Family Division, Court of Appeal, Supreme Court and European courts case, subscribe to Family Law Reports.
Subscribers can

 

log in here.
Find out more
 or 
request a free 1-week trial
 of the Family Law Reports. Please quote: 100482. 
---
Case No: B6/2017/0866

Neutral Citation Number: [2018] EWCA Civ 1368
IN THE COURT OF APPEAL (CIVIL DIVISION)
ON APPEAL FROM THE HIGH COURT OF JUSTICE
(Family Division)
Mr Justice Cobb
[2017] EWHC 449 (Fam)


Royal Courts of Justice
Strand, London, WC2A 2LL
Date: 14/06/2018
Before:
LADY JUSTICE KING
LORD JUSTICE NEWEY
and
MR JUSTICE MACDONALD
- - - - - - - - - - - - - - - - - - - - -
Between:
Una Mary Kelly
Respondent
- and -
John Norman Pyres
Appellant
- - - - - - - - - - - - - - - - - - - - -
- - - - - - - - - - - - - - - - - - - - -
Timothy Scott QC and William Tyzack (instructed by Stewarts Law LLP) for the Appellant
Charles Hale QC and Jonathan Rustin (instructed by Anthony Gold) for the Respondent
Hearing dates: 21 March 2018
- - - - - - - - - - - - - - - - - - - - -
Judgment

Judgment: 
Kelly v Pyres [2018] EWCA Civ 1368.rtf