(Family Division, Roberts J, 13 March 2018)
Financial Remedies – Pre-Nuptial Agreement – Wife disregarded legal advice and signed agreement prior to marriage – Whether and extent to which court should take terms of agreement into account
Taking into account the pre-nuptial agreement and her financial needs she was awarded a global sum of £2.95m.

---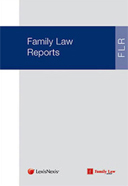 For comprehensive, judicially approved coverage of every important Family Division, Court of Appeal, Supreme Court and European courts case, subscribe to Family Law Reports.
Subscribers can

 

log in here.
Find out more
 or 
request a free 1-week trial
 of the Family Law Reports. Please quote: 100482. 
---
Neutral Citation Number: [2018] EWHC 499 (Fam)

Case No: BV16D17074
IN THE HIGH COURT OF JUSTICE
FAMILY DIVISION


Royal Courts of Justice
Strand, London, WC2A 2LL
Date: 13 March 2018
Before :
MRS JUSTICE ROBERTS
- - - - - - - - - - - - - - - - - - - - -
Between :
KA
Applicant
- and –
MA
Respondent
(PRENUPTIAL AGREEMENT: NEEDS)
- - - - - - - - - - - - - - - - - - - - -
- - - - - - - - - - - - - - - - - - - - -
Martin Pointer QC and Nichola Gray (instructed by Boodle Hatfield) for the Applicant
Philip Marshall QC and Millicent Benson (instructed by Horsey Lightly) for the Respondent
Hearing dates: 22nd to 25th January 2018
- - - - - - - - - - - - - - - - - - - - -
Judgment Approved by the court for handing down 


Judgments: KA v MA (Pre nuptial Agreement_Needs) [2018] EWHC 499 (Fam).rtf