(Family Division, Baker J, 5 December 2017)
Publicity and reporting – Divorce - Financial remedies – Parties members of the Luxembourg royal family – Whether the wife should be permitted to publicise aspects of the divorce and financial offer
A reporting restriction order was granted preventing the wife from publicising the terms of the financial offer.
---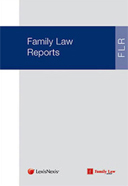 For comprehensive, judicially approved coverage of every important Family Division, Court of Appeal, Supreme Court and European courts case, subscribe to Family Law Reports.
Subscribers can

 

log in here.
Find out more
 or 
request a free 1-week trial
 of the Family Law Reports. Please quote: 100482. 
---
The judge has given permission for this version of the judgment to be published. There is a reporting restriction order in force in respect of this case. Permission to publish this version of the judgment is given expressly subject to the terms of the reporting restriction order.
Case No: ZC16D00198
Neutral Citation Number: [2017] EWHC 3095 (Fam)
IN THE HIGH COURT OF JUSTICE
FAMILY DIVISION


Royal Courts of Justice
Strand, London, WC2A 2LL
Date: 05/12/2017
Before:

THE HONOURABLE MR JUSTICE MACDONALD

- - - - - - - - - - - - - - - - - - - - -

Between:

His Royal Highness Louis Xavier Marie Guillaume Prince of Luxembourg, Prince of Nassau and Prince of Bourbon-Parma
Applicant
- and -
Her Royal Highness Tessy Princess of Luxembourg, Princess of Nassau and Princess of Bourbon-Parma 
First Respondent
-and-
The Telegraph Media Group Ltd
Second Respondent

- - - - - - - - - - - - - - - - - - - - -
Mr James Ewins QC and Ms Alexandra Marzec (instructed by Stewarts Law LLP) for the Applicant
Ms Emma Hargreaves and Mr John Stables (instructed by Farrer & Co) for the First Respondent
Mr Greg Callus (instructed by Telegraph Media Group Ltd) for the Second Respondent
Hearing dates: 19 October 2017
- - - - - - - - - - - - - - - - - - - - -
Judgment
Judgment: 
HRH Prince Louis of Luxembourg v HRH Princess Tessy of Luxembourg (Publication of Offer) [2017] EWHC 3095 (Fam).rtf