(Court of Appeal, Lloyd Jones, Beatson, Moylan LJJ, 31 August 2017)

Financial remedies – Non-matrimonial assets – Approach – Appeal from decision made on needs basis

The wife's appeal from a financial remedies order was dismissed.
---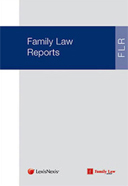 For comprehensive, judicially approved coverage of every important Family Division, Court of Appeal, Supreme Court and European courts case, subscribe to Family Law Reports.
Subscribers can

 

log in here.
Find out more
 or 
request a free 1-week trial
 of the Family Law Reports. Please quote: 100482. 
---
Case No: B6/2015/2271
Neutral Citation Number: [2017] EWCA Civ 1306
IN THE COURT OF APPEAL (CIVIL DIVISION)
ON APPEAL FROM HIS HONOUR JUDGE WILDBLOOD QC
SITTING AS A DEPUTY HIGH COURT JUDGE
FAMILY DIVISION

Royal Courts of Justice
Strand, London, WC2A 2LL
Date: 31/08/2017
Before: 
LORD JUSTICE LLOYD JONES
LORD JUSTICE BEATSON
and
LORD JUSTICE MOYLAN
- - - - - - - - - - - - - - - - - - - - -
Between:
KAREN HART
Appellant

- and -
JOHN RALPH HART
Respondent
- - - - - - - - - - - - - - - - - - - - -
- - - - - - - - - - - - - - - - - - - - -

Peter Mitchell (instructed by Irwin Mitchell LLP) for the Appellant
Grant Armstrong (instructed by The Law Practice UK Ltd.) for the Respondent

Hearing dates: 11th May 2017

- - - - - - - - - - - - - - - - - - - - -
Judgment
Judgment: Hart v Hart [2017] EWCA Civ 1306.rtf