(Family Court, Mostyn J, 6 June 2018)
Public law children – Care order – Mother's application to discharge care order – Section 39 Children Act 1989
 In the absence of any tangible evidence provided by the local authority of any individual concerns, the mother's application to discharge a care order was granted and replaced with a supervision order.
---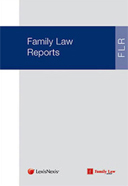 For comprehensive, judicially approved coverage of every important Family Division, Court of Appeal, Supreme Court and European courts case, subscribe to Family Law Reports.
Subscribers can

 

log in here.
Find out more
 or 
request a free 1-week trial
 of the Family Law Reports. Please quote: 100482. 
---
The judge authorises publication of this judgment in this anonymised form. In no report may the child be identified directly or indirectly.
Case No: SA16C00956
Neutral Citation Number: [2018] EWFC 36
IN THE FAMILY COURT



Caravella House
Quay West
Quay Parade
Swansea SA1 1SP
Date: 06/06/2018
Before :
MR JUSTICE MOSTYN
- - - - - - - - - - - - - - - - - - - - -
Between :
GM
Applicant
- and -
Carmarthenshire County Council
1st Respondent
- and -
 LLM
(by his Guardian)
2st Respondent
- - - - - - - - - - - - - - - - - - - - -
- - - - - - - - - - - - - - - - - - - - -
Clare Templeman (instructed by Gomer Williams) for the Applicant
Nathan Jones (instructed by Carmarthenshire CC) for the 1st Respondent
Julian Hussell (instructed by Cameron Jones Hussell & Howe) for the 2nd Respondent
Hearing date: 22 May 2018
- - - - - - - - - - - - - - - - - - - - -
Judgment


Judgment: 
GM v Carmarthenshire County Council [2018] EWFC 36.rtf