(High Court of Justice, Birss J, 11 June 2018)
Inheritance – Proprietary estoppel – Equitable remedy
 The court awarded the son, who had relied on assurances for over 40 years that the family farm would be his, 52% of the shares in the company and 46% of the land.
---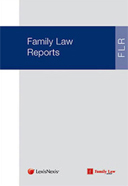 For comprehensive, judicially approved coverage of every important Family Division, Court of Appeal, Supreme Court and European courts case, subscribe to Family Law Reports.
Subscribers can

 

log in here.
Find out more
 or 
request a free 1-week trial
 of the Family Law Reports. Please quote: 100482. 
---
Case No: C31BS166

Neutral Citation Number: [2018] EWHC 1393 (Ch)
IN THE HIGH COURT OF JUSTICE
BUSINESS AND PROPERTY COURTS IN BRISTOL
PROPERTY TRUSTS AND PROBATE LIST


Bristol Civil Justice Centre
2 Redcliff Street
Bristol BS1 6GR
Date: 11 June 2018 
Before:
THE HON. MR JUSTICE BIRSS
- - - - - - - - - - - - - - - - - - - - -
Between:
John Michael Gee
Claimant
- and -
(1) John Richard Gee
(2) Robert Gee
Defendants
- - - - - - - - - - - - - - - - - - - - -
- - - - - - - - - - - - - - - - - - - - -
Leslie Blohm QC (instructed by Thrings) for the Claimant
David Rees QC (instructed by Royds Withy King) for the Defendants
Hearing dates: 11th, 13th, 16th-19th April 2018
- - - - - - - - - - - - - - - - - - - - -
Judgment

Judgment: 
Gee v Gee & Anor [2018] EWHC 1393 (Ch).rtf