Kara Swift 
Family Law in Partnership
---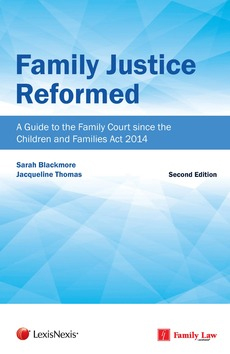 Family Justice Reformed (second edition: June 2017) contains detailed commentary on the Single Family Court and the Children and Families Act 2014, Pts 1 and 2 (which deal with family justice), including clear and comprehensive guidance on the underlying procedural regime and the rationale for the reforms.







---
'I know my rights' – With that statement a family lawyer will naturally turn to s 2A of the Children Act 1989 and the presumption of parental involvement.
'Parents do not have rights, they have responsibilities' – Arguably one is now considering the court's overriding objective and paramount consideration as set out in s 1 of the Children Act 1989 which highlights the welfare of any child.
How well in practice can the two align?
Child arrangements orders regulate with whom and for how long a child is to live, spend time or otherwise have contact with a person. The types of orders available to the court are:
a 'live with order' – an order setting out with whom the child should live; and

a 'spending time with order' – an order setting out the amount of time the child should spend visiting or staying overnight with the person named, whether that time should be supervised or unsupervised.
A joint 'live with order' whereby the child lives with both parents does not necessarily mean that there is an equal division of time. Courts can make a joint 'live with order' whereby the child technically lives with both parents but may only live with one of them on alternate weekends and one night mid-week, for example. A straight equal division of time is instead termed a 'shared care arrangement' and this is where a child most commonly has a one week on/one week off arrangement between both parents.
A 'shared care arrangement' that seeks a 50/50 division of time between the parents is unusual but is becoming more common. The court will always come from the starting point that it is in the child's best interests to have the active involvement of both parents in their life. But part of the wider assessment has to be how that arrangement will work in practice. In order for an equal division of time to work in practice, and for the child to move seamlessly between their parents, good communication is required between the parents. For a child to live their life between two homes, organisation and a willingness on both parent's part to make it work is required. There will be the forgotten books at the other's home and the friend's birthday party that means the normal arrangement has to be rejigged. These everyday issues will require constant communication, and careful consideration has to be given to the impact on the child if there is a poor relationship between the parents. This issue was considered by Russell J in F v L (Permission to Relocate: Appeal) [2017] EWHC 1377 (Fam) in hearing the mother's appeal against a decision refusing her application for leave to remove and granting the father a child arrangements order for shared care. Russell J found that the trial judge's approach to the splitting of the child's time was 'unsophisticated, over-simplistic' and that decisions for shared care were too often taken in an attempt to adhere to the presumption of parental involvement. Russell J went as far as to say that the splitting of a child's time between two homes that were antagonistic and unsupportive of each other was inconsistent with the best interests and welfare of the child. One may, therefore, have the 'right' to an equal shared care arrangement. However, that has to sit alongside the 'responsibility' to balance the time the child spends with one parent with the quality of such time taking into account everything else that comes with a shared care arrangement.
---
The original version of this article was published by Family Law in Partnership