(Court of Appeal, Kitchin LJ, Rose J, 27 March 2018)
Property – Beneficial interest – Purported payment of half purchase price – Limited evidence – Judge unable to make a finding of a 50% beneficial interest – Appeal
The appeal from the dismissal of the claim for a 50% beneficial interest in the property was refused.

---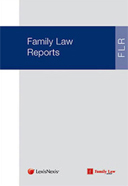 For comprehensive, judicially approved coverage of every important Family Division, Court of Appeal, Supreme Court and European courts case, subscribe to Family Law Reports.
Subscribers can

 

log in here.
Find out more
 or 
request a free 1-week trial
 of the Family Law Reports. Please quote: 100482. 
---
Neutral Citation Number: [2018] EWCA Civ 613


Case No: A3/2016/3746 & 3762

IN THE COURT OF APPEAL (CIVIL DIVISION)
ON APPEAL FROM THE COUNTY COURT AT CENTRAL LONDON
HH JUDGE FABER
CASE B10CL476


Royal Courts of Justice
Strand, London, WC2A 2LL
Date: 27/03/2018
Before :
LORD JUSTICE KITCHIN
and
MRS JUSTICE ROSE 

- - - - - - - - - - - - - - - - - - - - -

Between :
ANDREW CONSTANDAS
Appellant

- and -
(1) MRS ADRIANA LYSANDROU 
(a protected party by her litigation friend and son MR MICHAEL LYSANDROU)

(2) MR LYSANDROS LYSANDROU 
(a protected party by his litigation friend and son MR MICHAEL LYSANDROU)
(3) MICHAEL LYSANDROU 
Respondents
- - - - - - - - - - - - - - - - - - - - -
- - - - - - - - - - - - - - - - - - - - -
Ms S Steinhardt (instructed by Hodge Jones & Allen LLP) for the Appellant
Mr C Jacobs (instructed under the Bar Direct Access Scheme) for the Respondents
Hearing date: 6 March 2018
- - - - - - - - - - - - - - - - - - - - -
Judgment Approved

Judgment: Constandas v Lysandrou and Others [2018] EWCA Civ 613.doc