The Office for National Statistics has released new data that shows uptake of civil partnerships rising 3.4 per cent in 2016 compared with 2015.
---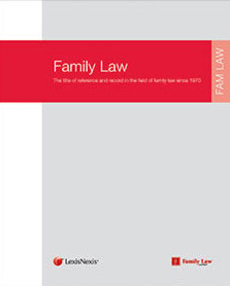 Family Law is the title of reference and record in the field of family law since 1970 and is the leading practitioner journal compiled by experts for family law professionals. The journal features the latest official guidances, in-depth case analysis and topical articles.
Family Law journal is available as either a print or online subscription.

 Find out more or request a free 1-week trial of Family Law journal. Please quote: 100482.
---
The statistics analyse the formations and dissolutions of civil partnerships by the sex, age and previous marital status of the couples and the place of registration.
Main findings
There were 890 civil partnerships formed in England and Wales in 2016, an increase of 3.4% compared with 2015; this is the first annual increase since the introduction of marriages of same-sex couples was announced in 2013.
More than two-thirds (68%) of all civil partnerships formed in 2016 were between men, the highest proportion since their introduction in 2005.
Almost half (49%) of those entering a civil partnership in 2016 were aged 50 or above; this compares with 19% in 2013, prior to the introduction of marriages of same-sex couples.
In 2016, for the second consecutive year, the average age of women forming a civil partnership (49.9 years) was higher than for men (48.6 years).
London continued to be the most popular region for the formation of civil partnerships; 38% of all formations in England and Wales in 2016 occurred in London.
There were 1,313 civil partnership dissolutions granted in England and Wales in 2016, of these 60% were to female couples.
Speaking in response to the figures, Resolution spokesperson on civil partnerships, Graeme Fraser, said:
'The increase in civil partnerships, for the first time since the introduction of same sex marriages, demonstrates how modern families are changing. It's important that the law keeps up.

'These figures will be of interest to policymakers and anyone monitoring the debate about extending civil partnerships to heterosexual couples - who may also wish to choose this way of marking their commitment to each other over marriage.

'Clearly more same sex couples chose a civil partnership in 2016 than in 2015. Sadly, it therefore stands to reason that dissolutions are also on the rise, by nearly 9% last year.

'It's therefore vital that professionals and politicians keep in mind all types of modern families, including civil partners and cohabiting couples, when considering how to deal with relationship breakdown.

'None of this should detract from the fundamental need for the public to be fully aware of the limited rights of cohabiting couples in England and Wales, and the steps they can take to protect their legal position, particularly when it comes to housing.

'Most importantly, there remains the pressing need for legislation to provide cohabiting couples with basic rights should they separate, to protect some of the most vulnerable in society, and particularly their children.'