(Court of Justice of the European Union, 19 September 2018)
Public law children – Return order – Parents took children subject to care proceedings to Ireland – Orders made by Irish court for return – Appeal – Notice – Jurisdiction
The Court of Justice of the European Union gave a preliminary ruling in cases where children had been taken from the jurisdiction to Ireland to avoid care proceedings.
---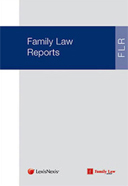 For comprehensive, judicially approved coverage of every important Family Division, Court of Appeal, Supreme Court and European courts case, subscribe to Family Law Reports.
Subscribers can

 

log in here.
Find out more
 or 
request a free 1-week trial
 of the Family Law Reports. Please quote: 100482. 
---
JUDGMENT OF THE COURT (First Chamber)
19 September 2018 (*)
(Reference for a preliminary ruling — Urgent preliminary ruling procedure — Judicial cooperation in civil matters — Jurisdiction, recognition and enforcement of decisions in matrimonial matters and in matters of parental responsibility — International child abduction — Regulation (EC) No 2201/2003 — Article 11 — Application for return — Hague Convention of 25 October 1980 — Application for a declaration of enforceability — Appeal — Charter of Fundamental Rights of the European Union — Article 47 — Right to an effective remedy — Time limit for bringing the appeal — Order authorising enforcement — Enforcement prior to service of the order)

In Joined Cases C 325/18 PPU and C 375/18 PPU,


TWO REQUESTS for a preliminary ruling under Article 267 TFEU from the Court of Appeal (Ireland), made by decisions of 17 May 2018 (C 325/18 PPU) and 7 June 2018 (C 375/18 PPU), received at the Court on 17 May 2018 and 7 June 2018 respectively, in the proceedings


Hampshire County Council

v

C.E.,

N.E.,

other parties:

Child and Family Agency,

Attorney General,