(High Court, Keehan J, 25 June 2018)
Mother moved with child to Russia – Father made application for return of child to the jurisdiction
Application refused.

---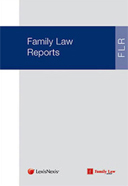 For comprehensive, judicially approved coverage of every important Family Division, Court of Appeal, Supreme Court and European courts case, subscribe to Family Law Reports.
Subscribers can

 

log in here.
Find out more
 or 
request a free 1-week trial
 of the Family Law Reports. Please quote: 100482. 
---
Neutral Citation Number: [2018] EWHC 2229 (Fam)

IN THE HIGH COURT OF JUSTICE
FAMILY DIVISION

Royal Courts of Justice
Strand
London


Before MR JUSTICE KEEHAN
IN THE MATTER OF
MR A W (Applicant)
-v-
MS K J (Respondent)
THE APPLICANT appeared in person
MR MICHAEL GRATION, Counsel, appeared for the Respondent
JUDGMENT
25th JUNE 2018 16.52-17.18

(AS APPROVED)
__________________
This judgment was delivered in private. The judge has given leave for this version of the judgment to be published on condition that (irrespective of what is contained in the judgment) in any published version of the judgment the anonymity of the children and members of their family must be strictly preserved. All persons, including representatives of the media, must ensure that this condition is strictly complied with. Failure to do so will be a contempt of court.
This Transcript is Crown Copyright. It may not be reproduced in whole or in part other than in accordance with relevant licence or with the express consent of the Authority. All rights reserved.


Judgment: 
AW v KJ [2018] EWHC 2229 (Fam).pdf