AB v CD and others 
[2018] EWHC 1590 (Fam) illustrates how the needs of modern families formed through assisted conception and surrogacy continue to challenge and outpace the law. Louisa Ghevaert and Richard Jones analyse the case in the September issue of
Family Law
([2018] Fam Law 1187).
On one level, the case focused on disputes about arrangements for the children's upbringing, including exercise of parental responsibility and contact. However, at the heart of this case were fundamental issues about the legal identity and status of the parents and children because the biological intended parents had not applied for parental orders.
This case marked the first time the court had to deal with a situation whereby a family created through surrogacy encountered serious domestic violence, marital breakdown, divorce and remarriage forming a new blended family.
The court was unable to resolve the children's legal parentage and family identity issues. Keehan J's frustration in not being able to legally recognise the children's biological parents under English law was palpable. Instead, he made the children wards of court and made child arrangements orders in favour of the intended biological mother and her second husband (the children's stepfather). He made no order for contact between the children and their biological father, dismissed his deemed application for parental responsibility and restricted the exercise of parental responsibility by the Indian surrogate and her spouse.
---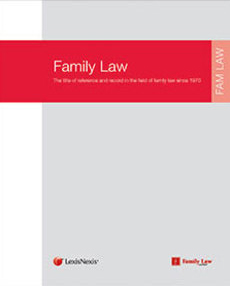 The full version of this article appears in the September 2018 issue of Family Law. 
Find out more
 or 
request a free 1-week trial
 of Family Law journal. Please quote: 100482.