(Court of Appeal, McFarlane, King, Simon LJJ, 7 February 2018)
Jurisdiction – Parentage – DNA testing – Risk of bowel cancer – Application to use retained DNA sample
The appeal was dismissed and the court found that the judge below had been correct in his approach and conclusion in directing that the DNA sample should be used for paternity testing.

---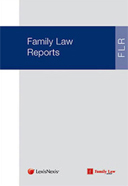 For comprehensive, judicially approved coverage of every important Family Division, Court of Appeal, Supreme Court and European courts case, subscribe to Family Law Reports.
Subscribers can

 

log in here.
Find out more
 or 
request a free 1-week trial
 of the Family Law Reports. Please quote: 100482. 
---
Neutral Citation Number: [2018] EWCA Civ 100

Case No: B4/2016/2164

IN THE COURT OF APPEAL (CIVIL DIVISION)
ON APPEAL FROM THE HIGH COURT OF JUSTICE
(FAMILY DIVISION)
Mr Justice Peter Jackson
[2016] EWHC 851 (Fam)
Royal Courts of Justice
Strand, London, WC2A 2LL

Date: 07/02/2018

Before:
LORD JUSTICE MCFARLANE
LADY JUSTICE KING
and
LORD JUSTICE SIMON

- - - - - - - - - - - - - - - - - - - - -

Between:

Valerie Anderson (Personal Representative of William Brian Anderson Deceased)
Appellant

- and -

David Spencer
Respondent

- - - - - - - - - - - - - - - - - - - - -
- - - - - - - - - - - - - - - - - - - - -

The Appellant did not appear and was not represented
James Kemp (instructed by TM Solicitors) for the Respondent

Hearing date: 10 October 2017
- - - - - - - - - - - - - - - - - - - - -

Judgment Approved

Judgment: 
Anderson v Spencer [2018] EWCA Civ 100.doc