Mary Welstead, CAP Fellow, Harvard Law School; Visiting Professor in Family Law, University of Buckingham
Faiz Siddiqui had an Oxford degree in Modern History and had qualified as a solicitor. He had further post-graduate qualifications and, at the age of 41, continued to pursue his education. In spite of these credentials, Faiz had been unemployed since 2011. He had lived rent free in a flat owned by his parents in London and had received a generous monthly allowance from them. After Faiz's relationship with his parents deteriorated, they reduced his allowance and asked him to leave the flat. The High Court refused Faiz's application for the allowance to be continued. He applied to the Court of Appeal for permission to appeal the decision, an application which the Court of Appeal declined.
It is surprising that Faiz chose to pursue his claim under the complex provisions of the Matrimonial Causes Act 1973, the Children Act 1989, and the inherent jurisdiction, rather than plead the doctrine of constructive trust or proprietary estoppel.

The judgment may not give rise to too much sympathy for a well-qualified man like Faiz, who had received generous support. However, for young adults, without resources, who are about to embark on education or training, or who are vulnerable, the judgment may cause disquiet. It has drawn attention to the differential treatment of adult children whose parents' relationships are intact and those whose parents no longer live together, yet these young people are likely to have similar needs.
---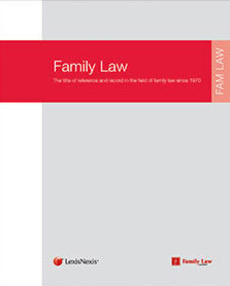 The full article will be published in the April issue of Family Law.
Find out more or request a free 1-week trial of Family Law journal. Please quote: 100482.
---