(Family Division, Roberts J, 6 December 2017)
Financial remedies – Appeal – Global maintenance order – No assessment or involvement of CMS – Whether the court had jurisdiction to make an order making provision for the children - Quantum
The husband's appeal from orders made in financial remedy proceedings was dismissed.
---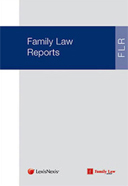 For comprehensive, judicially approved coverage of every important Family Division, Court of Appeal, Supreme Court and European courts case, subscribe to Family Law Reports.
Subscribers can

 

log in here.
Find out more
 or 
request a free 1-week trial
 of the Family Law Reports. Please quote: 100482. 
---
This judgment was delivered in private. The judge has given leave for this version of the judgment to be published on condition that (irrespective of what is contained in the judgment) in any published version of the judgment the anonymity of the children and members of their family must be strictly preserved. All persons, including representatives of the media, must ensure that this condition is strictly complied with. Failure to do so will be a contempt of court.
Ref:2017/0111
Case No: ZC15D02737
Neutral Citation Number: [2017] EWHC 3164 (Fam)
IN THE HIGH COURT OF JUSTICE
FAMILY DIVISION

ON APPEAL FROM HIS HONOUR JUDGE EVERALL QC
SITTING AT THE CENTRAL FAMILY COURT

Royal Courts of Justice
Strand, London, WC2A 2LL
Date: 6/12/2017
Before :
MRS JUSTICE ROBERTS DBE
- - - - - - - - - - - - - - - - - - - - -
BETWEEN :
AB
Appellant
- and -
CD
Respondent
(JURISDICTION: GLOBAL MAINTENANCE ORDERS)
- - - - - - - - - - - - - - - - - - - - -
Mr Alexander Chandler (instructed on a direct access basis) for the Appellant
CD, the respondent, appeared in person
Appeal Hearing date: 20 November 2017
- - - - - - - - - - - - - - - - - - - - -
Judgment

Judgment: 
AB v CD [2017] EWHC 3164 (Fam).rtf