Family Division, MacDonald J, 21 March 2018)
Private law children – Child arrangements order – Appeal – Deficient expert evidence – Summary decision without further expert instruction
The father's appeal from a child arrangements order was allowed.
---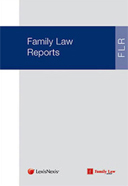 For comprehensive, judicially approved coverage of every important Family Division, Court of Appeal, Supreme Court and European courts case, subscribe to Family Law Reports.
Subscribers can

 

log in here.
Find out more
 or 
request a free 1-week trial
 of the Family Law Reports. Please quote: 100482. 
---
The Judge has given permission for this anonymised version of the judgment (and any of the facts and matters contained in it) to be published, on condition always that the names and the addresses of the parties and the children must not be published. All persons, including representatives of the media, must ensure that these conditions are strictly complied with. Failure to do so will be a contempt of court.
Case No: BD15P00165
Neutral Citation Number: [2018] EWHC 521 (Fam)
IN THE HIGH COURT OF JUSTICE
FAMILY DIVISION
ON APPEAL FROM HHJ SCARRATT
IN THE FAMILY COURT SITTING AT MEDWAY


Royal Courts of Justice
Strand, London, WC2A 2LL
Date: 21/03/2018
Before:
THE HONOURABLE MR JUSTICE MACDONALD
- - - - - - - - - - - - - - - - - - - - -
Between:
A
Appellant
- and -
R
First Respondent
-and-
T
Second Respondent
- - - - - - - - - - - - - - - - - - - - -
- - - - - - - - - - - - - - - - - - - - -
The Appellant appeared in person
Mr Matthew Persson (instructed by Goodman Ray) for the First Respondent
Ms Caroline Topping (instructed by Berry & Lamberts) for the Second Respondent
Hearing dates: 6 March 2018
- - - - - - - - - - - - - - - - - - - - -
Judgment

Judgment: A v R and Another [2018] EWHC 521 (Fam).rtf