(Family Court, Baker J, 26 January 2018)
Financial remedies – Strike out – Application brought 24 years after decree absolute – Wife sought to strike out husband's claim
The wife's application to strike out the husband's claim for financial remedies was dismissed.
---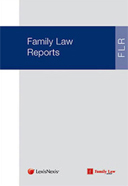 For comprehensive, judicially approved coverage of every important Family Division, Court of Appeal, Supreme Court and European courts case, subscribe to Family Law Reports.
Subscribers can

 

log in here.
Find out more
 or 
request a free 1-week trial
 of the Family Law Reports. Please quote: 100482. 
---
Neutral Citation Number: [2018] EWFC 4

Case No: FD92D00643
IN THE FAMILY COURT

IN THE MATTER OF THE MATRIMONIAL CAUSES ACT 1973

Royal Courts of Justice
Strand, London, WC2A 2LL
Date: 26/01/2018
Before :
THE HONOURABLE MR JUSTICE BAKER
- - - - - - - - - - - - - - - - - - - - -
Between :
 A 
Applicant
- and -
B 
Respondent
- - - - - - - - - - - - - - - - - - - - -
- - - - - - - - - - - - - - - - - - - - -
Rebecca Bailey-Harris (instructed by Thomson Snell and Passmore) for the Applicant
Sally Harrison QC (instructed by BPS Family Law LLP) for the Respondent
Hearing dates: 20 December 2016
- - - - - - - - - - - - - - - - - - - - -
Judgment Approved
Judgment:
A v B [2018] EWFC 4.rtf