Sir James Munby retires as President of the Family Division having had an undeniable impact on family justice reform. Stepping into the role at a time of unprecedented change, Sir James has not shied away from the difficulties of the role, often under the harsh spotlight of media attention.

Shortly after commencing his term as President, Sir James very notably challenged the Ministry of Justice (MoJ) on the impact of legal aid cuts on access to justice. Although the argument had been made by many, including the Law Society, his public request to the MoJ rightly illustrated the human impact of the policy.

And, happily for the profession, Sir James did not stop there. In his tenure as President he has drawn the public's attention to the crisis facing the courts through the increase in litigants in person, cuts to welfare and health spending, as well as the issues caused by outdated IT systems throughout the court estate. 
Despite leading from the top, Sir James has also successfully maintained a relationship with those practitioners conducting the day-to-day work of family law. Some may also recall that after taking office, Sir James Munby embarked on a tour of the country to meet as many family justice professionals as possible, opening up a dialogue for practitioners with the very top of our profession. He has maintained this dialogue throughout his term, allowing practitioners to influence developments.

 
Affecting change is never easy however. In spite of years of outcry, we have only very recently seen steps introduced to better protect and support vulnerable parties and witnesses. And we are yet to see a change to the law to ban the cross examination of survivors of abuse by their alleged perpetrators in the family court.

 
Right up to the end of his term, Munby continued to criticise this 'stain' on the family justice system; a very apt example of the passion and fortitude he has brought to the office. He has been a much-needed voice in the debate for reform of the family justice system. To describe his presidency as reformative would be to understate the changes he has overseen, which shows his remarkable determination – for which we should all be grateful. In typically robust fashion, he recently described the imminent closure of FDAC as 'a failure of imagination, of vision and of commitment'. These are things of which Sir James could never be accused.
Those of us working across the family justice landscape will be sad to see him go. But we must now look forward, as Sir James has often urged, to prepare ourselves for further changes in practice.
---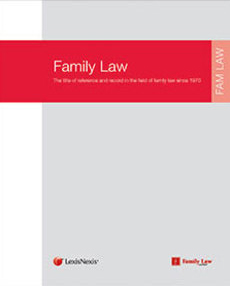 This article appears in the August 2018 issue of Family Law. 
Find out more
 or 
request a free 1-week trial
 of Family Law journal. Please quote: 100482.