Leading family law solicitor Helen Ward is to leave Manches to join Stewarts Law as a Partner together with six members of her team.
Helen has acted in a string of high profile cases, including Charman where she represented the wife and successfully secured the highest award as yet determined by a UK Court. She is also a favourite with celebrities having represented film director Guy Ritchie in his divorce from Madonna and Formula One tycoon Bernie Eccleston in his divorce from Slavica Ecclestone.
The divorce and family department, headed by Stephen Foster (pictured), practices exclusively in litigation mainly for high-net value clients. The department was set up six years ago, in which time it has also recruited leading solicitors Debbie Chism from Manches and Emma Hatley from Withers. Stewarts Law last year increased their turnover by 22.5% to £34.9m up from £5m six years ago.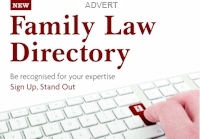 Catrin Readshaw, a Senior Associate at Manches, will also be moving to Stewarts Law. Catrin is currently shortlisted for Family Law Young Solicitor of the Year at next month's Family Law Awards. Also joining Helen Ward from Manches are Charlotte Cuevas, Jenny Duggan, Clare Surenyi, Nicola Saunders and secretary Faith Parsons. 
Stephen Foster commented: "Helen's appointment endorses and strengthens our current market position as a leading UK divorce and family department. Our strategy has been to create a team comprising the very best divorce lawyers at every level to meet the complex and sensitive needs of our clients. Helen, who we regard as the leading family lawyer in the country, will add significant strength and depth to the team."
The appointments will begin in November.