Mental health and human rights lawyer Lucy Scott-Moncrieff has been inaugurated as the Law Society's President at their Annual General Meeting yesterday.
Lucy, who has been a Council member since 2002, is the managing partner of Scott-Moncrieff and Associates LLP, a virtual law firm that undertakes legal aid work on behalf of vulnerable children and adults as well as privately paid work for individuals and businesses.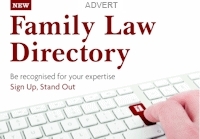 Lucy Scott-Moncrieff said: "During my time at The Law Society, and particularly during the last two years as an office holder, I have learned so much about the profession, its shared values and its shared commitment to justice and the rule of law. I hope to achieve greater public understanding of the important role that solicitors play in our society, whether in the City or the High Street, in-house or in private practice.
"I, my office holder team, my colleagues on Council, our committee volunteers and all The Law Society staff will continue to work  with local law societies, representative bodies, regulators, government and anyone else who is willing to talk to us, so that we can help our members continue to serve society and promote justice."
The new president will be supported by Vice President Nick Fluck and Deputy Vice President Andrew Caplen.