Irwin Mitchell has become the latest divorce and family law firm to be approved as an Alternative Business Structure by the Solicitors Regulation Authority, and the first firm to be granted multiple ABS licences.
The national law firm was among the first applicants for ABS status when the SRA began taking applications in the first week of January and has been granted five licences by the regulator covering a range of businesses within its group structure.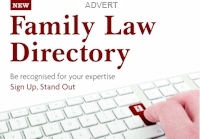 The SRA has also approved the appointments of Glyn Barker, the former Vice-Chairman UK of PricewaterhouseCoopers, as Chairman of Irwin Mitchell's parent company, IMCO Holdings Ltd, with immediate effect and Mel Egglenton as a second Non-Executive Director and Chair of the company's Audit Committee, a role he previously held with accountants KPMG.
The licences granted to Irwin Mitchell cover businesses operating separately within the firm's group structure, including Irwin Mitchell LLP and also Irwin Mitchell Trust Corporation Ltd, which accepts appointments to act as Deputy from the Court of Protection.
Irwin Mitchell recently reported a 6.8% increase in turnover to £183.7m for the financial year 2011/12. Group Chief Executive John Pickering said: "It's a very significant day for us, an important milestone which positions us well to take advantage of the opportunities which we think will arise from the changing legal landscape.
 "We can now push on with our plans for growing the business. Conversion to ABS status sends a clear signal that we intend to move forward with our strategy."
Irwin Mitchell's SRA approval brings the total number of ABS firms that practice divorce and family law to nine, including the Co-operative Legal Services and Russell Jones & Walker.