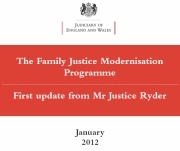 Mr Justice Ryder has released his first update in his new capacity as Judge in Charge of the Modernisation of Family Justice.
The role was created following the publication of the final recommendations the Family Justice Review Panel in November and the creation of Family Business Authority as a committee of the HMCTS Board able to make decisions in relation to the family justice system.
In his update Mr Justice Ryder sets out his intention to have agreed proposals for the modernisation of family justice and to have a plan for their implementation by the end of July 2012 when his appointment comes to an end. This includes working on developing a plan for common training and guidance materials which will be published at the conclusion of his appointment.
On the issue of consulting with a range of interested and representative groups, Mr Justice Ryder wrote: "Each interested group will need to be listened to again and their various ideas on the workstreams will lead to the drafting of detailed guidance and plans. The proposals will also need to be considered with senior colleagues in other jurisdictions because of the inevitable impact they may have on the work of other courts.
"The Judicial Communications Office will ensure that key partners are aware of developments through the judicial intranet and a dedicated section of the Judicial Office website".