Travel tips for Family Lawyers in London
All eyes and ears are on London as we prepare for a great and extraordinary event: Squillions of pounds spent, thousands of volunteers taking unpaid leave to direct tourists to the nearest loo, and London transport on the brink of collapse. Curmudgeonly grumblings of overcrowding, bah-humbuggings about inflated prices and tut-tutting about road lanes will do nothing to stop the Olympics from happening in less than 30 days' time, so: on your marks...get set...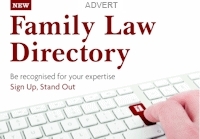 The Olympic Park at Stratford is just one of the twenty venues that will be hosting events. Live sites are spread far and wide across the city and Greater London, so some areas at certain times will be incredibly busy during the Games. This article is intended to help you and your clients prepare for what may lie ahead when travelling to court during this period. 
Doubtless many of you will have seen the government's expensive 'Get Ahead of the Games' campaign, which aims to persuade a third of Londoners off the tubes and buses and onto their bikes and feet during the Olympics. However, if you're not keen on hoisting piles of files onto the back of your two-wheeled steed, or you don't fancy walking from Hammersmith to Stratford FPC lugging law books and lever arches in the swelter of the summer sun (if only) there may be other options.
When's it all happening?
The Olympic Games will run from the 27 July- 12 August.
The Paralympics will run from the 29 August-9 September 2012.
Your transport route could be affected two or three days either side of those dates, especially if you are going by road. For temporary road changes, bookmark this: http://www.tfl.gov.uk/corporate/projectsandschemes/18196.aspx
The website for 'Get Ahead of the Games' is very useful and even includes a tool which allows the user to enter travel details for a particular day which will show up any difficulties you're likely to encounter. Do your individual research at: http://www.getaheadofthegames.com/travelinaffectedareas/city/london-public-transport.html
Working on the weekend?
On these dates there will be Marathons from Westminster to City of London August 5, 12 and 9 September. If your office/Chambers is in central London you might want to steer clear...
Travelling to Court
Here is a (by no means exhaustive) list of those family courts in and around Greater London that may be affected, including information about what services the courts will be running and travel tips. As always, it pays to book tickets in advance and remember to leave plenty of time to allow for delays.
Barnet County Court
Travel: Kentish Town and Tufnell Park stations will be busier than usual between 7.30am and 9.00am during weekdays. On certain days, anything from a 15 to 30 minute delay is predicted for people wanting to board at these stations from 8.30am-9am.
Bexley/Bromley
Travel: If going to Bexley from central London, both London Bridge and Victoria will be exceptionally busy on Friday, 3 August. The recommendation is to set off before 7am or after 10am!
Croydon County Court
Services: Both Croydon CC and Croydon FPC at the Magistrates' court are said to be running normal timetables.
Travel: East Croydon station will be much busier than usual throughout the Games, as it's a main interchange station for passengers to London Bridge and London Victoria. Busiest times will be during the morning peak from 7-10am, particularly on weekdays. Many Southern trains will run with extra carriages throughout the day.
Gee Street/Clerkenwell and Shoreditch County Court
Services: All courts running normal timetables.
Travel: Barbican/Farringdon tube stations on the Hammersmith and City line branch should not be too badly affected. Indeed, the GAOTG website recommends using this line several times as an alternative to the Piccadilly and Central lines.
Guildford County Court
Services: As normal, although the counter hours for Family courts will run from 9am-2pm only from July 'till September.
Inner London Family Proceedings Court
Services: ILFPC will be reduced to three courtrooms.
Travel: Oxford Street is likely to be busier than usual during the evening between 5-7pm during the Olympic Games and between 8.30-9.30am during the Paralympic Games. Alternative stations nearby include:
Goodge Street - Northern line
Great Portland Street - Circle/Hammersmith & City/Metropolitan lines
Bond St -Central and Jubilee lines (Though Bond Street interchange between the Jubilee and Central lines will be incredibly busy because of spectators travelling on both lines to get to the Olympic Park)
Kingston
Travel: Kingston station looks to be largely unaffected although watch out if you're travelling from London Waterloo, which will be exceptionally busy throughout the Olympic and Paralympic Games as it is a key interchange station for spectators.
Waterloo will also be much busier than normal during the weekday morning peak.
Principal Registry of the Family Division
Travel: Central line trains passing through Holborn and Chancery Lane will be full of spectators travelling to and from the Olympic Park. It will be difficult to board trains at busy times.
Holborn station will be busier than usual in the morning peak and exceptionally busy in the evening peak during the Olympic Games. Busiest times will be:
1-4pm on Saturday 28 July
5-9pm from Monday 30 July to Saturday 4 August
1.30-5.30pm on Sunday 5 August
4.30-8pm from Monday 6 to Friday 10 August
During the Paralympic Games, Holborn will be busier than usual in the weekday morning and evening peaks from 7.30-10am and 3-7pm from Thursday 30 August to Friday 7 September.
Try alternate stations nearby: Russell Square, Farringdon, Barbican or Temple
Chancery Lane will be particularly busy in the evening peak on weekdays from 4.30-9.30pm throughout the Games.
It will also be exceptionally busy from 1-5pm on Sunday 5 and Sunday 12 August due to Olympic road events taking place in the area.
Richmond FPC
Richmond station will be busier than usual on 3, 6, 7, 8 and 9 August. Avoiding peak travel times is recommended.
Royal Courts of Justice
Judges in the Family Division are aiming to only hold short hearings during the peak Olympic schedule. On the 30 and 31 July it's likely that the courts will only hear emergency applications. Longer hearings will be fit in before and after.
Slough County Court
Services: Running as normal
Travel: Slough station is one of the recommended venue stations for spectators attending the Olympic Rowing and Canoe Sprint events at Eton Dorney. It will be particularly busy two to three hours before events begin and one to two hours after events finish. The busiest times for Slough in the Olympic schedule will be:
7-10am: Saturday 28 July - Saturday 11 August (except Sunday 5 August)
2-5pm: Saturday 28 July
11.30am-1.30pm: Sunday 29 & Monday 30 July, Monday 6 - Saturday 11 August
12.30-3pm: Tuesday 31 July and Wednesday 1 - Saturday 4
Stratford FPC
Emergency orders only for the duration of the Games. This location will be Olympic central and is best avoided if possible. All transport will be affected. Book tickets well in advance and leave plenty of time.
Watford County Court
If you're travelling on the overground from Clapham/Kensington Olympia/Shepherd's Bush, Clapham Junction may be affected by delays.
If you're going from Euston it will be busier than usual throughout the Olympic and Paralympic Games as it is a key interchange station for spectators.
Euston is expected to be busiest in the weekday morning peak between 7.30-9.30am.
If you live near Earl's Court: it will be exceptionally busy throughout the Olympic Games as it is a venue station for spectators attending Olympic Volleyball events. EC is expected to be busiest from midday, and in the early evening and late evening from Saturday 28 July to Sunday 12 August.
Alternative stations nearby include:
High Street Kensington - District/Circle lines (15 min walk)
Gloucester Road - District/Circle/Piccadilly lines (11 min walk)
Good Luck!
Delia is a specialist family law barrister practising at 42 Bedford Row, a member of the Association of Lawyers for Children, the FLBA, and the Bar Pro Bono Unit. Delia was called to the Bar in 2007.
The views expressed by contributing authors are not necessarily those of Family Law or Jordan Publishing and should not be considered as legal advice.