The Government has announced that parents on income-related benefits who live apart from their children are to have the amount of child maintenance they must pay increased from £5 to £10 per week. The change will apply to clients of the new statutory child maintenance scheme.
The Government will use a pathfinder approach to introduce the new scheme gradually from October 2012. The increase in the amount paid by parents on income-related benefits will take place when the scheme is opened to all new applicants.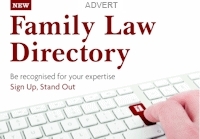 The aim is to help ensure that all non-resident parents make a more significant financial contribution to the welfare of their children and offer a fairer deal for parents who share the care of their children.
It was also announced that a Child Support Agency rule that required some parents to pay maintenance when they share the care of their children equally will be scrapped for clients of the new scheme. In the future, no maintenance will need to be paid in cases where care is shared on a 50-50 basis.
Work and Pensions Minister Maria Miller said: "The Government wants to encourage and support parents to make their own family-based arrangements whenever possible because they are better for families. We are also committed to providing a much better statutory service for those separated parents for whom this is not possible. We will be introducing the new scheme through a pathfinder from October. It will be faster and simpler than the two Child Support Agency schemes now in operation. And most importantly, it will be fairer for both mums and dads."