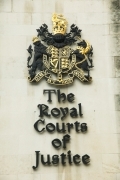 Mr Justice McFarlane has been appointed to the Court of Appeal with effect from 28 July 2011, Downing Street announced today.
The popular judge and author was called to the Bar (Gray's Inn) in 1977 and took Silk whilst practicing at 1 King's Bench Walk chambers in 1998. He was appointed as an Assistant Recorder in 1995, as a Recorder in 1999, as a Deputy High Court Judge in 2000 and was made a Bencher in 2003. He was appointed to the High Court (Family Division) in 2005 has been a Family Division Liaison Judge for the Midlands since 2006.
Sir Andrew has written extensively for Family Law including co-authoring with the late David Hershman QC Hershman and McFarlane: Children Law and Practice , which he continues to contribute to as an Update Editor. Sir Andrew has also written Hershman & McFarlane Children Act Handbook, and Child Care and Adoption Law, A Practical Guide, as well as articles for the Family Law journal.
Sir Andrew has also been a member of the government's Family Justice Review Panel which published its interim report on 31 March 2011 outlining a number of reforms to public and private law and the family justice system as a whole.
Mr Justice McFarlane has the reputation of being a progressive judge who supported the opening up of the family courts to the media. In a speech to the Resolution annual conference in 2009, the judge said that government plans to open family courts to the press did not go far enough and were unlikely to enable journalists to report fully and accurately on family cases. He argued that reporting will be limited to covering the system rather than the substance and journalists would therefore be in no better position.