Jordan Publishing is delighted to announce the shortlist of nominees for the Family Law Awards 2012, sponsored by Anglia DNA. The Family Law Awards judges met in London last week to discuss the nominations and approve the shortlist.
The awards ceremony will be held on 10 October 2012 at the London Hilton hotel on Park Lane, Mayfair and hosted by last year's winner of the Outstanding Achievement award, District Judge Nicholas Crichton.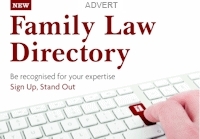 The number of awards available to win this year has almost doubled from 8 to 15. There are now three award categories for barristers and solicitors respectively to reflect their seniority: partner, associate, and young solicitors, and; QC, junior, and young barristers. We have also added another three awards: International Family Lawyer of the Year, Family Law Legal Executive of the Year, and Family Pro Bono Lawyer of the year.
Of the fifteen awards, the shortlist and winners of nine have been selected by the judging panel, five will be voted for on the Family Law Awards website by the family law community in the coming weeks and the Pro Bono winner will be decided by the trustees of the National Pro Bono Centre.
The judging panel was made up of the heads of the three family law practitioners' associations, the Family Law Bar Association, Resolution and the Association of Lawyers for Children, along with Family Law editors and publishing executives. Judges were not allowed to vote for their own firm or chambers or for any of their colleagues.
The winners of the Pro Bono and Outstanding awards will be announced at the awards ceremony and there isn't a shortlist for these two categories.
The short-listed nominees are (in alphabetical order):
1. FAMILY LAW PARTNER OF THE YEAR
Charlotte Collier, Atkins Hope
Antonia Love, Farleys
Tony McGovern, Creightons & Partners
Bradley Williams, Family Law in Partnership
2. FAMILY LAW ASSOCIATE SOLICITOR OF THE YEAR - Sponsored by 1 Garden Court:
Sital Amin, Irwin Mitchell
Linzi Bull, Harbottle & Lewis
Rebecca Carlyon, Manches
Karan Chadha, Freemans
3. FAMILY LAW YOUNG SOLICITOR OF THE YEAR - Sponsored by 14 Grays Inn Square:
Melanie Barnes, Penningtons
Catrin Readshaw, Manches
Amy Rowe, Bindmans
Maria Wright, Freemans
4. FAMILY LAW QC OF THE YEAR
Stephen Cobb, 1 Garden Court
Lewis Marks, Queen Elizabeth Buildings
Alison Russell, 1 Garden Court
Henry Setright, 4 Paper Buildings
5. FAMILY LAW JUNIOR BARRISTER OF THE YEAR
Michael Glaser,14 Grays Inn Square Chambers
Charles Hale, 4 Paper Buildings
Elizabeth Isaacs, St Ives Chambers
Kate Purkiss, Coram Chambers
6. FAMILY LAW YOUNG BARRISTER OF THE YEAR
Michael Gration, 4 Paper Buildings
Jacqueline Renton, 4 Paper Buildings
Lyndsey Sambrooks-Wright, 2 Dr Johnston Building
Amber Sheridan, 29 Bedford Row
7. INTERNATIONAL FAMILY LAWYER OF THE YEAR
David Hodson, The International Family Law Group
Anne-Marie Hutchinson, Dawson Cornwell
William Longrigg, Charles Russell
James Stewart, Manches
8. FAMILY LAW FIRM OF THE YEAR AWARD - Sponsored by 4 Paper Buildings
Atkins Hope
Farleys
Goodman Ray
Hartnell Chanot
 9. FAMILY LAW CHAMBERS OF THE YEAR AWARD
29 Bedford Row
Coram
1 Garden Court
1 Hare Court
10. MOST INNOVATIVE FAMILY LAWYER OF THE YEAR AWARD - Sponsored by PKF
Neil Denny, Family Law in Partnership
Aina Khan, Russell, Jones & Walker, part of Slater & Gordon Lawyers
Therese Nichols of Russell-Cooke
Lucy Reed, St John's Chambers
Sir Peter Singer, Gavin Smith & Rhys Taylor, FamilyArbitrator.com
11. FAMILY LAW ADR PRACTITIONER OF THE YEAR AWARD
Stephen Anderson, Birketts
Sarah Anticoni, Charles Russell
Gillian Bishop, Family Law in Partnership
Denise Carter OBE, The International Family Law Group
Joanne Edwards, Manches
Denise Ingamels, TV Edwards
Suzanne Kingston, Withers
12. FAMILY LAW LEGAL EXECUTIVE OF THE YEAR
Rachel Barlow, Banner Jones Ltd
Alexandra Boardman, Hartnell Chanot & Partners
Sarah McCarthy, Tracey Miller Family Law
Catherine Reynolds, Michelmores LLP
Katrina Reynolds, Coventry City Council Legal Services
13. FAMILY LAW READERS' COMMENTARY AWARD
Her Honour, Nasreen Pearce
Lucy Reed, St Johns Chambers
Neil Robinson, The Mediation Centre
This year the ceremony will be a larger event held in the ball room of the Hilton on Park Lane and guests will be able to book tables. To book a place or reserve a table, click here.
We would like to congratulate all the shortlisted nominees and thank everyone who submitted a nomination.
Join the conversation about the awards on Twitter use the hashtag: #familylawawards.
For information on sponsorsing the Family Law Awards, please visit www.familylawawards.com/Sponsor-the-Awards.