(Family Division, Sir James Munby P, 3 August 2017)

Public law children – Secure accommodation – 17-year-old with severe mental difficulties – Urgent placement not available

A hearing was reconvened to make arrangements for the vulnerable girl's release from a detention centre.

---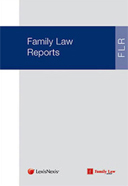 For comprehensive, judicially approved coverage of every important Family Division, Court of Appeal, Supreme Court and European courts case, subscribe to Family Law Reports.
Subscribers can

 

log in here.
Find out more
 or 
request a free 1-week trial
 of the Family Law Reports. Please quote: 100482. 
---
Neutral Citation Number: [2017] EWHC 2036 (Fam)

Case number omitted
IN THE HIGH COURT OF JUSTICE
FAMILY DIVISION
Sitting at MANCHESTER
Judgment handed down at LIVERPOOL


Royal Courts of Justice
Strand, London, WC2A 2LL
Date: 3 August 2017
Before:
SIR JAMES MUNBY PRESIDENT OF THE FAMILY DIVISION
- - - - - - - - - - - - - - - - - - - - -
In the matter of X (A Child) (No 3)

- - - - - - - - - - - - - - - - - - - - -
- - - - - - - - - - - - - - - - - - - - -
Mr Michael Jones (instructed by the local authority) for the applicant Cumbria County Council
Ms Rebecca Gregg (instructed by Gaynham King & Mellor) for X
Mr Simon Rowbotham (instructed by Denby & Co) for X's guardian
Mr Mungo Wenban-Smith (instructed by Hill Dickinson LLP) for the relevant NHS Clinical Commissioning Group
Ms Elizabeth Wheeler (of DAC Beachcroft LLP) for NHS England 
Hearing dates: 31 July, 1 August 2017

- - - - - - - - - - - - - - - - - - - - -
Judgment Approved
Judgment: 
Re X (A Child)(No 3) [2017] EWHC 2036 (Fam).rtf