(Family Court, Sir James Munby, the President of the Family Division, 17 August 2017)
Public law children – Disclosure – Findings made about social worker and police officer unfair – Redacted version of judgment released – Social worker sought permission to disclose papers to legal team for purposes of QBD proceedings
An order was made permitting limited disclosure of public law children proceedings.
---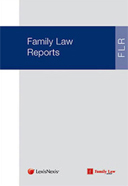 For comprehensive, judicially approved coverage of every important Family Division, Court of Appeal, Supreme Court and European courts case, subscribe to Family Law Reports.
Subscribers can

 

log in here.
Find out more
 or 
request a free 1-week trial
 of the Family Law Reports. Please quote: 100482. 
---
Neutral Citation Number: [2017] EWFC 61

Case Nos: LU12C0341/LU13C03205
IN THE FAMILY COURT
Sitting at the ROYAL COURTS OF JUSTICE


Royal Courts of Justice
Strand, London, WC2A 2LL
Date: 17 August 2017
Before:

SIR JAMES MUNBY PRESIDENT OF THE FAMILY DIVISION
- - - - - - - - - - - - - - - - - - - - -
In the matter of W(Children)
Application by SW
- - - - - - - - - - - - - - - - - - - - -
- - - - - - - - - - - - - - - - - - - - -

Mr William Tyzack (instructed by Bhatt Murphy) for the applicant SW
Mr Andrew Norton QC and Ms Gemma Kelly (instructed by the local authority legal department) for the local authority
Hearing date: 25 July 2017
- - - - - - - - - - - - - - - - - - - - -
Judgment Approved 

This judgment was handed down in open court

Judgment: 
Re W (Children) [2017] EWFC 61.rtf