(Family Division, Sir James Munby, the President of the Family Division, 5 May 2017)
Public law children – Adoption – Appeal from adoption order – Date of order
The President clarified the date of an adoption order in circumstances where an appeal was being pursued in the Court of Appeal.
At the conclusion of care proceedings the parents' consent was dispensed with and an adoption order was granted. The father's subsequent applications for a leap-frog appeal to the Supreme Court of permission to appeal to the Court of Appeal were refused: Re  W (A Child) (No 2) [2017] EWHC 917 (Fam). However, the father was granted a stay for 21 days while he renewed his application for permission to appeal to the Court of Appeal.
It fell to be determined whether the adoption order should be dated as when it was first made at the conclusion of the care proceedings or whether it should be treated as not having been made until the determination of the Court of Appeal proceedings.
The President held that the date should be that of the original adoption order. If the father's appeal was successful the adoption order would be set aside. However, it he was unsuccessful it was right that the adoption and the inherent change of status should take effect from the date of the judgment, not from some uncertain date in the future. Such a decision would create no prejudice for anyone since the stay prevented any action being taken in pursuance of the adoption order.
---
This judgment was delivered in private. The judge has given leave for the judgment to be published on condition that (irrespective of what is contained in the judgment) in any published version of the judgment the anonymity of the children and members of their families must be strictly preserved. All persons, including representatives of the media, must ensure that this condition is strictly complied with. Failure to do so will be a contempt of court.
Case Nos: omitted
Neutral Citation Number: [2017] EWHC 1032 (Fam)
IN THE HIGH COURT OF JUSTICE
FAMILY DIVISION


Royal Courts of Justice
Strand, London, WC2A 2LL
Date: 5 May 2017
Before:
SIR JAMES MUNBY PRESIDENT OF THE FAMILY DIVISION
- - - - - - - - - - - - - - - - - - - - -
In the matter of W (A Child) (No 3)
- - - - - - - - - - - - - - - - - - - - -
- - - - - - - - - - - - - - - - - - - - -
No hearing : matter dealt with on paper
- - - - - - - - - - - - - - - - - - - - -
Judgment
Re W (A Child)(No 3) [2017] EWHC 1032 (Fam).rtf
---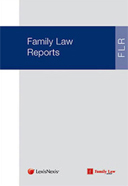 For comprehensive, judicially approved coverage of every important Family Division, Court of Appeal, Supreme Court and European courts case, subscribe to Family Law Reports.
Subscribers can

 

log in here.
Find out more
 or 
request a free 1-week trial
 of the Family Law Reports.