(Family Division, Baker J, 3 October 2017)
Practice and procedure – Revised PD 12J – Domestic violence allegations – Failure to re-open fact finding
The appeal was allowed and a fresh fact-finding hearing was ordered.
---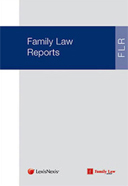 For comprehensive, judicially approved coverage of every important Family Division, Court of Appeal, Supreme Court and European courts case, subscribe to Family Law Reports.
Subscribers can

 

log in here.
Find out more
 or 
request a free 1-week trial
 of the Family Law Reports. Please quote: 100482. 
---
The Judge hereby gives leave for this judgment to be reported on the strict understanding that in any report the anonymity of the child and the adult members of her family must be strictly preserved.
Case No: 2017/0100
Neutral Citation Number: [2017] EWHC 2626 (Fam)
IN THE HIGH COURT OF JUSTICE
FAMILY DIVISION
On appeal from the Family Court at Exeter
HH Judge Robertshaw
PL16P00276


Royal Courts of Justice
Strand, London, WC2A 2LL
Date: 3rd October 2017 
Before:
THE HONOURABLE MR JUSTICE BAKER
- - - - - - - - - - - - - - - - - - - - -
IN THE MATTER OF THE CHILDREN ACT 1989
AND IN THE MATTER OF LG (A CHILD) (RE-OPENING OF FACT-FINDING)
Between:
LR
Appellant
- and -
JG (1)
LG (by her children's guardian) (2)
Respondents
- - - - - - - - - - - - - - - - - - - - -
- - - - - - - - - - - - - - - - - - - - -
Tina Cook QC (instructed by The Family Law Company) for the Appellant
Anne Bell (instructed by Boyce Hatton) for the First Respondent
James Hayward (instructed by Everys) for the Second Respondent
Hearing dates: 15th September 2017
- - - - - - - - - - - - - - - - - - - - -
Judgment

Judgment:
Re LG (Re Opening of Fact Finding) [2017] EWHC 2626 (Fam).rtf