(Family Division, Sir James Munby P, Hallet, Macur LJJ, 23 May 2017)
Public law children – Final orders – Procedure – Arts 6 and 8, European Convention
---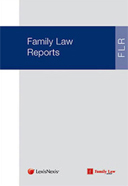 For comprehensive, judicially approved coverage of every important Family Division, Court of Appeal, Supreme Court and European courts case, subscribe to Family Law Reports.
Subscribers can

 

log in here.
Find out more
 or 
request a free 1-week trial
 of the Family Law Reports. Please quote: 100482. 
---
The appeal was allowed.
Final care orders were made at an issues resolution hearing in relation to the three children. The mother was granted permission to appeal.
The appeal was allowed. The process adopted was unfair to the mother and the children and in breach of their Arts 6 and 8 European Convention rights. In particular, there had been no updated case analysis and two of the children were without legal representation. Furthermore, the mother had been given no warning that final orders might be made at the hearing.
---
Case No: B4/2016/2306
Neutral Citation Number: [2017] EWCA Civ 398
IN THE COURT OF APPEAL (CIVIL DIVISION)
ON APPEAL FROM THE CENTRAL FAMILY COURT
HIS HONOUR JUDGE TOLSON QC
ZC15FC00620

Royal Courts of Justice
Strand, London, WC2A 2LL
Date: 23/05/2017
Before:
SIR JAMES MUNBY
LADY JUSTICE HALLETT DBE
and
LADY JUSTICE MACUR DBE
- - - - - - - - - - - - - - - - - - - - -
Between:

A McC
Appellant
- and -
The London Borough of Wandsworth
1st Respondent

-and-

A J
2nd Respondent
-and-
C J and J J (Minors)
(Through their children's guardian)
3rd and 4th Respondents
- - - - - - - - - - - - - - - - - - - - -
Ms J Bazley QC and Mr M Hellens (instructed by David Tagg & Co) for the Appellant
Mr A Bagchi QC and Ms G Kelly (instructed by the Local Authority) for the 1st Respondent
Ms S Morgan QC and Ms L Sprinz (instructed by Creighton & Partners) for the 2nd Respondent
Ms D Fottrell QC and Ms S Segal (instructed by Noel Arnold of Coram Children's Legal Centre) for the Intervener
Hearing dates: 15 February 2017
- - - - - - - - - - - - - - - - - - - - -
Judgment
Re J (Children) [2017] EWCA Civ 398.rtf