(Family Court, Peter Jackson J, 29 September 2017)
Public law children – Parental drug use – Hair strand testing – Low level results of drug use – Procedure – Care or supervision order
The judge concluded that the mother had not used cocaine during 2017 and made a supervision order.
---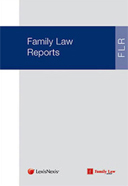 For comprehensive, judicially approved coverage of every important Family Division, Court of Appeal, Supreme Court and European courts case, subscribe to Family Law Reports.
Subscribers can

 

log in here.
Find out more
 or 
request a free 1-week trial
 of the Family Law Reports. Please quote: 100482. 
---
This judgment was handed down after a hearing in private. It can be reported, provided that the family members are not identified. Failure to comply with this condition may be a contempt of court.

Neutral Citation Number: [2017] EWFC 64

IN THE FAMILY COURT
SITTING AT THE ROYAL COURTS OF JUSTICE


29 September 2017
Before:
THE HONOURABLE MR JUSTICE PETER JACKSON
- - - - - - - - - - - - - - - - - - - -
Between:
THE LONDON BOROUGH OF BARNET
Applicant
-and-
(1) T (Mother)
(2) G (Father)
(3) H (Child)
Respondents
-and-
(1) ALERE TOXICOLOGY
(2) E4 LAW LIMITED (t/a LEXTOX)
(3) DNA LEGAL
Interveners
- - - - - - - - - - - - - - - - - - - -
William Tyler QC and Emily James (instructed by instructed by Sarah Johnson, Legal Services) for the Local Authority
Hannah Markham QC and Kate Tompkins (instructed by Dawn Wilson of Creighton & Partners) for the Mother
Paul Hepher (instructed by Jalpa Vadgama of Guile Nicholas Solicitors) for the Father
Timothy Parker and Edward Lamb (instructed by Sabina Mahmood of Gary Jacobs & Co) for the Children's Guardian
Tina Cook QC and Damian Woodward-Carlton (instructed by Nick Cunningham of Gowling WLG (UK) LLP) for Alere Toxicology
Ronan O'Donovan (instructed by David Martin of Carbon Law Partners) for Lextox
John Tughan QC (instructed by Philip Banks-Welsh of Royds Withy King, Solicitors) for DNA Legal
Hearing dates: 18-22, 25 & 29 September 2017
Judgment date: 29 September 2017
- - - - - - - - - - - - - - - - - - - -
JUDGMENT – Re H: Hair Strand Testing

Judgment:
Re H (A Child Hair Strand Testing) [2017] EWFC 64.rtf