(Family Division, Sir James Munby, the President of the Family Division, 13 October 2017)
Medical treatment – Legal parenthood – Anomalies in consent to treatment forms – Attempts to rectify by sending a declaration for signing
The President gave judgment explaining why it was necessary for orders to be made by the court in cases where anomalies in consent to treatment forms had occurred.
---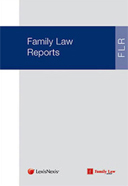 For comprehensive, judicially approved coverage of every important Family Division, Court of Appeal, Supreme Court and European courts case, subscribe to Family Law Reports.
Subscribers can

 

log in here.
Find out more
 or 
request a free 1-week trial
 of the Family Law Reports. Please quote: 100482. 
---
Neutral Citation Number: [2017] EWHC 2532 (Fam)


Case numbers omitted

IN THE HIGH COURT OF JUSTICE
FAMILY DIVISION


Royal Courts of Justice
Strand, London, WC2A 2LL
Date: 13 October 2017
Before :
SIR JAMES MUNBY PRESIDENT OF THE FAMILY DIVISION
- - - - - - - - - - - - - - - - - - - - -
In the matter of the Human Fertilisation and Embryology Act 2008 (Cases P, Q, R, S, T and U) (No 2)
- - - - - - - - - - - - - - - - - - - - -
- - - - - - - - - - - - - - - - - - - - -
Ms Deirdre Fottrell QC (instructed by Goodman Ray) for the applicants
Ms Sarah Morgan QC and Ms Sharon Segal (instructed by DAC Beachcroft LLP) for Care Fertility Group Manchester
Ms Eleena Misra (instructed by Blake Morgan LLP) for the Human Fertilisation and Embryology Authority
Ms Fiona Paterson (instructed by Berryman Lace Mawer) for Dr X
Hearing date: 18 July 2017
- - - - - - - - - - - - - - - - - - - - -
Judgment Approved
This judgment was handed down in open court

Judgment: P and others (Human Fertilisation and Embryology Act 2008) (No 2) [2017] EWHC 2532 (Fam).rtf