(Privy Council, 25 May 2017)
Property – Beneficial ownership – Properties – Purchase money provided by one party – Claim that parties intended to share beneficial ownership – Resulting trust
---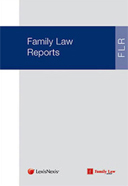 For comprehensive, judicially approved coverage of every important Family Division, Court of Appeal, Supreme Court and European courts case, subscribe to Family Law Reports.
Subscribers can

 

log in here.
Find out more
 or 
request a free 1-week trial
 of the Family Law Reports. Please quote: 100482. 
---
The appeal was allowed and the case remitted to the Supreme Court of the Bahamas.
During the relationship between the two men they acquired several properties and other assets in their joint names. When the relationship came to an end it fell to be determined who owned the assets. The appellant contended that the assets were owned by him beneficially by virtue of him having paid for the majority of them himself. The respondent claimed they had intended to have equal shares in the assets.
The first instance decision that by virtue of a resulting trust the parties were entitled to an equal division of the assets was upheld on appeal. The appellant appealed to the Privy Council.
The appeal was allowed and the case remitted to the Supreme Court of the Bahamas. The evidence in this instance was insufficient to found a conclusion that the parties intended to share the beneficial interest in the properties and the assets
---
Easter Term
[2017] UKPC 17
Privy Council Appeal No 0050 of 2015
JUDGMENT
Marr (Appellant) v Collie (Respondent) (Bahamas)
From the Court of Appeal of the Commonwealth of the Bahamas
before
Lord Neuberger
Lady Hale
Lord Kerr
Lord Wilson
Lord Sumption
JUDGMENT GIVEN ON
25 May 2017
Heard on 19 December 2016
Marr v Collie [2017] UKPC 17.pdf