(Family Division, Baker J, 12 November 2018)
Jurisdiction – Financial remedies – TOLATA claim – Sch 1, Children Act 1989 – Ongoing divorce proceedings in Italy – Child habitually resident in England – Husband's appeal from decision that English court held jurisdiction in relation to maintenance and matrimonial property
The husband's appeals from decisions finding that the English court had jurisdiction in relation to a TOLATA claim and proceedings under Sch 1 to the Children Act 1989 were dismissed.
---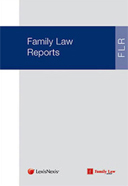 For comprehensive, judicially approved coverage of every important Family Division, Court of Appeal, Supreme Court and European courts case, subscribe to Family Law Reports.
Subscribers can

 

log in here.
Find out more
 or 
request a free 1-week trial
 of the Family Law Reports. Please quote: 100482. 
---
This judgment was delivered in public, but the judge has directed that (irrespective of what is contained in the judgment) in any published version of the judgment the anonymity of the child and members of her family must be strictly preserved. All persons, including representatives of the media, must ensure that this condition is strictly complied with. Failure to do so will be a contempt of court.
Case No: 2017/0117 and 0127
Neutral Citation Number: [2018] EWHC 3057 (Fam)
IN THE HIGH COURT OF JUSTICE
FAMILY DIVISION
On appeal from Central London County Court
(HH Judge Parfitt) and from West London
Family Court (District Judge Jenkins)

Royal Courts of Justice
Strand, London, WC2A 2LL
Date: 12 November 2018 
Before :

LORD JUSTICE BAKER

- - - - - - - - - - - - - - - - - - - - -
Between :

LM
Applicant
- and -

KD
Respondent

- - - - - - - - - - - - - - - - - - - - -
- - - - - - - - - - - - - - - - - - - - -

Stewart Leech QC and Julie O'Malley (instructed by Hanover Bond) for the Applicant
Sally Jackson (instructed by A City Law Firm Ltd) for the Respondent
Hearing dates: 4 October and 10 November 2017, 26 January and 6 July 2018
- - - - - - - - - - - - - - - - - - - - -
Judgment


Judgment: 
LM v KD [2018] EWHC 3057 (Fam).rtf