(Court of Appeal, Sir Geoffrey Vos C, McCombe and Asplin LJJ, 19 December 2017)
Inheritance – Reasonable provision – Inheritance (Provision for Family and Dependants) Act 1975 – Transfer of property to long-term partner - Appeal
The decision to transfer the property to the deceased's long-term partner was upheld on appeal.
---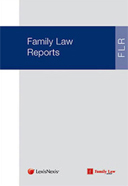 For comprehensive, judicially approved coverage of every important Family Division, Court of Appeal, Supreme Court and European courts case, subscribe to Family Law Reports.
Subscribers can

 

log in here.
Find out more
 or 
request a free 1-week trial
 of the Family Law Reports. Please quote: 100482. 
---
Neutral Citation Number: [2017] EWCA Civ 2182


Case No: A3/2016/3090
IN THE COURT OF APPEAL (CIVIL DIVISION)
ON APPEAL FROM THE HIGH COURT OF JUSTICE
CHANCERY DIVISION
MR JUSTICE NEWEY
Case Nos: B00GL077 & B00GL0107

Rolls Building
7 Rolls Buildings
Fetter Lane
London, EC4A 1NL
Date: 19 December 2017

Before:

SIR GEOFFREY VOS, THE CHANCELLOR OF THE HIGH COURT
LORD JUSTICE McCOMBE and
LADY JUSTICE ASPLIN
B E T W E E N
In claim number B00GL077

LYNN LEWIS
(as Executrix of the Estate of Audrey Blackwell, deceased)
Claimant / Appellant
and
THOMAS STANLEY WARNER
Defendant / Respondent

and
B E T W E E N
In claim number B00GL0107

THOMAS STANLEY WARNER
Claimant / Respondent

and
LYNN LEWIS
(as Executrix of the Estate of Audrey Blackwell, deceased)
Defendant / Appellant
- - - - - - - - - - - - - - - - - - - - -
Mr Roger Evans (instructed by Moore Brown & Dixon LLP) appeared for Mr Warner
Mr Bernard Weatherill QC (instructed by Tierney & Co) appeared for Mrs Lewis

Hearing date: 7th December 2017

- - - - - - - - - - - - - - - - - - - - -
Judgment Approved

Judgment: 
Lewis v Warner [2017] EWCA Civ 2182.pdf