(Family Division, MacDonald J, 19 May 2017)
Private law children – Child arrangements order – 14-year-old suffering from anorexia and depression – Whether she should live with the mother or father
---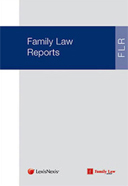 For comprehensive, judicially approved coverage of every important Family Division, Court of Appeal, Supreme Court and European courts case, subscribe to Family Law Reports.
Subscribers can

 

log in here.
Find out more
 or 
request a free 1-week trial
 of the Family Law Reports. Please quote: 100482. 
---
A child arrangements order was made for the girl to live with the father and spend time with her mother.
The 14-year-old girl suffered from anorexia and a severe depressive illness. She was detained for treatment under s 3 of the Mental Health Act 1983. Her father applied for a child arrangements order providing for the girl to live with him and spend time with the mother once the girl was discharged from hospital. A consultant child and adolescent psychiatrist reported that an order was needed to provide the girl with the level of certainty she needed to overcome her illness and that the mother was not capable of meeting her needs. The application was supported by the guardian but the girl clearly expressed her wish to live with the mother.
The application was allowed. It was in the girl's best interests to make the order.
The girl's wish to live with her mother had to be balanced against the fact that she felt a significant amount of responsibility for the mother's health and well-being. Although in the short term an order that did not accord with her wishes might have a detrimental impact on her, she needed to have the burden of feeling responsible for her mother removed.
---
Neutral Citation Number: [2017] EWHC 1212 (Fam)

Case No: WD16P00931
IN THE HIGH COURT OF JUSTICE
FAMILY DIVISION


Royal Courts of Justice
Strand, London, WC2A 2LL
Date: 19/05/2017
Before:
THE HONOURABLE MR JUSTICE MACDONALD
- - - - - - - - - - - - - - - - - - - - -
Between:

 L 
Applicant

- and –

 L 
First Respondent
-and-

 N 
(Through her Children's Guardian)
Second Respondent

- - - - - - - - - - - - - - - - - - - - -
- - - - - - - - - - - - - - - - - - - - -
The Applicant appeared in person
Ms Hannah Markham QC (instructed by Messrs Raydens) for the First Respondent 
Ms Jane Rayson (instructed by CAFCASS) for the Second Respondent

Hearing dates: 17 and 19 May 2017
- - - - - - - - - - - - - - - - - - - - -
Judgment Approved
L v L and another [2017] EWHC 1212 (Fam).rtf