(Family Court, Peter Jackson J, 12 May 2017)
Practice and procedure – Magistrates – Failure to attend - Bench warrant for arrest
---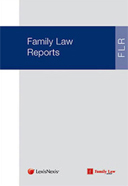 For comprehensive, judicially approved coverage of every important Family Division, Court of Appeal, Supreme Court and European courts case, subscribe to Family Law Reports.
Subscribers can

 

log in here.
Find out more
 or 
request a free 1-week trial
 of the Family Law Reports. Please quote: 100482. 
---
The court held that magistrates had the power to issue a bench warrant for attendance at a hearing in proceedings brought under the Maintenance Regulation 2009.
An order made by the Polish court in 2009 ordered the father to make monthly payments to the mother. No payments had been made. In 2014 when the mother believed the father to be living in the UK, she made an application to the Polish Central Authority for enforcement under the Maintenance Regulation.
Despite attempts to trace the father, personal service had not been achieved. The question arose of whether the magistrates had jurisdiction to issue a warrant if the father was served and failed to attend. Peter Jackson J gave guidance on the issue.
In cases where the alleged defaulter did not attend, arrangements should be made for the hearing notice to be served personally with a warning attached to the notice that the court may invoke its powers to deal with the defaulter as a contemnor. If there was still no attendance then the magistrates could issue a bench warrant: s 31E Matrimonial and Family Proceedings Act 1984;
Westwood v Knight
[2012] EWPCC 14.
---
Case No: MA15P90017/15007045J

Neutral Citation Number: [2017] EWFC 27
IN THE FAMILY COURT
SITTING AT MANCHESTER


12 May 2017
Before:
THE HONOURABLE MR JUSTICE PETER JACKSON
Sitting at Manchester Civil Justice Centre
- - - - - - - - - - - - - - - - - -
Re K (REMO – Power of Magistrates to Issue Bench Warrant)
- - - - - - - - - - - - - - - - - -
JUDGMENT:
K (Remo - Power of Magistrates to Issue Bench Warrant) [2017] EWFC 27.rtf