(Family Division, Cobb J, 29 November 2017)
Financial remedies – Needs – Wife had complex needs due to brain injury – Husband failed to engage in financial proceedings
In financial remedy proceedings orders were made permitting the wife to retain £11,726,491 of assets and for the husband to pay her a cash lump sum of £3,474,607 to meet her complex needs.

---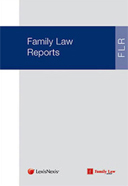 For comprehensive, judicially approved coverage of every important Family Division, Court of Appeal, Supreme Court and European courts case, subscribe to Family Law Reports.
Subscribers can

 

log in here.
Find out more
 or 
request a free 1-week trial
 of the Family Law Reports. Please quote: 100482. 
---
This judgment was delivered in private. The judge has given leave for this version of the judgment to be published on condition that (irrespective of what is contained in the judgment) in any published version of the judgment the anonymity of the children and members of their family must be strictly preserved. All persons, including representatives of the media, must ensure that this condition is strictly complied with. Failure to do so will be a contempt of court.
Case No: DH15D02945
Neutral Citation Number: [2017] EWHC 3162 (Fam)
IN THE HIGH COURT OF JUSTICE
FAMILY DIVISION


Royal Courts of Justice
Strand, London, WC2A 2LL
Date: 29/11/2017
Before :
THE HONOURABLE MR JUSTICE COBB
- - - - - - - - - - - - - - - - - - - - -
Between :
HC
(By Emma Gaudern her litigation friend)
Applicant
- and -
FW
Respondent
- - - - - - - - - - - - - - - - - - - - -
- - - - - - - - - - - - - - - - - - - - -
Timothy Bishop QC and Marina Faggionato (instructed by Stewarts) for the Applicant (wife) (HC)
The Respondent (husband) (FW) was neither present nor represented
Hearing dates: 13 November 2017
- - - - - - - - - - - - - - - - - - - - -
Judgment 

Judgment: HC (by her litigation friend) v FW [2017] EWHC 3162 (Fam).rtf