(Family Division, MacDonald J, 11 May 2017)

Abduction – Hague Convention

---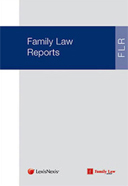 For comprehensive, judicially approved coverage of every important Family Division, Court of Appeal, Supreme Court and European courts case, subscribe to Family Law Reports.
Subscribers can

 

log in here.
Find out more
 or 
request a free 1-week trial
 of the Family Law Reports. Please quote: 100482. 
---
An order was made for the summary return of the children to the USA.
The mother and father initially lived in Colorado where their two children were born. The subsequently moved to Hawaii. The parents' relationship broke down in 2014 and the mother was later granted permission to take the children to London. She failed to return to Hawaii and took the children to Europe before returning to the UK.
The court in Hawaii granted the father sole custody and ordered the children's return but the mother refused to comply. The father now applied to the English court for a return order under the Hague Convention.
A return order was granted. The protective measures were sufficient to protect the children from a grave risk of harm. The children's expressed objections were taken into consideration but were not determinative in this instance. There were welfare advantages to the court in Hawaii determining matters. Only by returning the children would be father's continuing relationship with the children be ensured.
---
This judgment was delivered in private. The Judge has given permission for this anonymised version of the judgment (and any of the facts and matters contained in it) to be published on condition always that the names and the addresses of the parties and the children must not be published. For the avoidance of doubt, the strict prohibition on publishing the names and addresses of the parties and the children will continue to apply where that information has been obtained by using the contents of this judgment to discover information already in the public domain. All persons, including representatives of the media, must ensure that these conditions are strictly complied with. Failure to do so will be a contempt of court.
Case No: FD16P00689
Neutral Citation Number: [2017] EWHC 1141 (Fam)
IN THE HIGH COURT OF JUSTICE
FAMILY DIVISION


Royal Courts of Justice
Strand, London, WC2A 2LL
Date: 11/05/2017
Before:
THE HONOURABLE MR JUSTICE MACDONALD
- - - - - - - - - - - - - - - - - - - - -
Between:

H
Applicant
- and –

K
First Respondent
-and-
B and M
(By their Children's Guardian)
Second and Third Respondents
- - - - - - - - - - - - - - - - - - - - -
- - - - - - - - - - - - - - - - - - - - -

Miss Jacqueline Renton (instructed by Bindmans LLP) for the Applicant
Mr Edward Devereux QC (instructed by Access Law) for the First Respondent
Ms Shabana Jaffar (of CAFCASS Legal) for the Second and Third Respondents

Hearing dates: 10 and 11 May 2017

- - - - - - - - - - - - - - - - - - - - -
Judgment 
H v K and others [2017] EWHC 1141 (Fam).rtf