(Family Division, Peter Jackson J, 24 July 2017)
Practice and procedure – Case management – Cross-examination of mother by father – Appeal
 The mother's appeal from a case management decision that the father would be allowed to cross-examine her was allowed.
---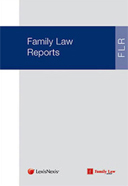 For comprehensive, judicially approved coverage of every important Family Division, Court of Appeal, Supreme Court and European courts case, subscribe to Family Law Reports.
Subscribers can

 

log in here.
Find out more
 or 
request a free 1-week trial
 of the Family Law Reports. Please quote: 100482. 
---
[2017] EWHC 1907 (Fam)


Case No: 2017/00092, SK13P00036

IN THE HIGH COURT OF JUSTICE
FAMILY DIVISION
ON APPEAL FROM THE FAMILY COURT
SITTING AT MANCHESTER


Date: 24 July 2017
Before:

MR JUSTICE PETER JACKSON

- - - - - - - - - - - - - - - - - - - - -

Between:

H (Mother)
Appellant

– and –

D (Father)
– and –

The Child
Respondents

H v D (Appeal – Failure of Case Management)

- - - - - - - - - - - - - - - - - - - - -
- - - - - - - - - - - - - - - - - - - - -
Anna Warters (instructed by Alfred Newton Solicitors) for the Mother
The Father represented himself
Rachel Early (Temperley Taylor LLP) for the Child

Hearing date: 7 July 2017 Judgment date 24 July 2017

- - - - - - - - - - - - - - - - - - - - -
JUDGMENT


Judgment: H v D (Appeal Failure of Case Management) [2017] EWHC 1907 (Fam).rtf