(Family Division, Sir James Munby, the President of the Family Division, 8 November 2017)
Marriage and divorce – Petition – Fraud
The Queen's Proctor had proved his case that each of the petitions had been fraudulently made and were, therefore, void.
---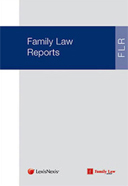 For comprehensive, judicially approved coverage of every important Family Division, Court of Appeal, Supreme Court and European courts case, subscribe to Family Law Reports.
Subscribers can

 

log in here.
Find out more
 or 
request a free 1-week trial
 of the Family Law Reports. Please quote: 100482. 
---
Neutral Citation Number: [2017] EWHC 2789 (Fam)

Case No: ZC15D03263, (and twenty other cases) 
IN THE HIGH COURT OF JUSTICE
FAMILY DIVISION

In the matter of twenty-one irregular divorces


Royal Courts of Justice
Strand, London, WC2A 2LL
Date: 8 November 2017
Before :
SIR JAMES MUNBY PRESIDENT OF THE FAMILY DIVISION
- - - - - - - - - - - - - - - - - - - - -

Between :
MARCO LO GRASSO
Applicant

- and –
SURENDRA NAIK
Respondent
- and -

KHALIK BHATOO
Third Party

and twenty other petitions

- - - - - - - - - - - - - - - - - - - - -
- - - - - - - - - - - - - - - - - - - - -
The Respondent appeared in person
Mr Simon Murray (instructed by the Government Legal Department) for the Queen's Proctor
Hearing date: 10 October 2017
- - - - - - - - - - - - - - - - - - - - -
Judgment Approved 
This judgment was handed down in open court
Judgment: Grasso v Naik [2017] EWHC 2789 (Fam).rtf