(Family Division, Mostyn J, 12 May 2017)
---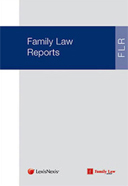 For comprehensive, judicially approved coverage of every important Family Division, Court of Appeal, Supreme Court and European courts case, subscribe to Family Law Reports.
Subscribers can

 

log in here.
Find out more
 or 
request a free 1-week trial
 of the Family Law Reports. Please quote: 100482. 
---
This judgment was delivered in private. The judge directs that this anonymised version of the judgment may be published. No report of the case may identify the parties.

Case No: MA13D01518
Neutral Citation Number: [2017] EWHC 1093 (Fam)
IN THE HIGH COURT OF JUSTICE
FAMILY DIVISION


Royal Courts of Justice
Strand, London, WC2A 2LL
Date: 12/05/2017
Before :
MR JUSTICE MOSTYN
- - - - - - - - - - - - - - - - - - - - -
Between :
FF
Appellant
- and -
KF
Respondent
- - - - - - - - - - - - - - - - - - - - -
- - - - - - - - - - - - - - - - - - - - -
Robert Peel QC (instructed by Camilla Baldwin) for the Appellant
Patrick Chamberlayne QC (instructed by Sears Tooth) for the Respondent
Hearing dates: 11 May 2017
- - - - - - - - - - - - - - - - - - - - -
Judgment
FF v KF [2017] EWHC 1093 (Fam).rtf