(Family Division, Baker J, 14 September 2017)
Jurisdiction – Art 15, BIIR – Private law children proceedings in England and Spain – Children and mother now living in England
The court submitted a request under Art 15 of BIIR to the Spanish court for it to transfer jurisdiction to the courts of England and Wales.
---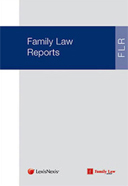 For comprehensive, judicially approved coverage of every important Family Division, Court of Appeal, Supreme Court and European courts case, subscribe to Family Law Reports.
Subscribers can

 

log in here.
Find out more
 or 
request a free 1-week trial
 of the Family Law Reports. Please quote: 100482. 
---
Neutral Citation Number: [2017] EWHC 2298 (Fam)


Case No: FD16P00550

IN THE HIGH COURT OF JUSTICE
FAMILY DIVISION

IN THE MATTER OF THE SENIOR COURTS ACT 1981
AND IN THE MATTER OF COUNCIL REGULARTION (EC) 2201/2003
AND IN THE MATTER OF AE AND JE (CHILDREN) (ARTICLE 15 BRUSSELS IIA)


Royal Courts of Justice
Strand, London, WC2A 2LL
Date: 14/09/2017
Before:
THE HONOURABLE MR JUSTICE BAKER
- - - - - - - - - - - - - - - - - - - - -
Between :
FE
Applicant
- and -

MR (1)
AE (2)
JE (3)
Respondents
- - - - - - - - - - - - - - - - - - - - -
- - - - - - - - - - - - - - - - - - - - -

The Applicant and Respondent appeared in person
Alistair Perkins (instructed by Covent Garden Family Law) for the Second and Third Respondents by their children's guardian, Jacqueline Roddy
Hearing dates: 4th September 2017
- - - - - - - - - - - - - - - - - - - - -
Judgment Approved

Judgment: 
FE v MR and Others [2017] EWHC 2298 (Fam).rtf