(Court of Appeal, Davis, King and Irwin LJJ, 21 December 2017)
Public law children – Local authority liability – Vulnerable family – Abusive neighbours – Whether the local authority owed a duty of care to protect the children
The local authority appeal was allowed and the original order striking out the claim that the local authority owed a tortious duty of care to children to protect them from harassment and abuse by third parties was restored.
---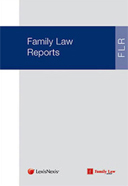 For comprehensive, judicially approved coverage of every important Family Division, Court of Appeal, Supreme Court and European courts case, subscribe to Family Law Reports.
Subscribers can

 

log in here.
Find out more
 or 
request a free 1-week trial
 of the Family Law Reports. Please quote: 100482. 
---
Neutral Citation Number: [2017] EWCA Civ 2185

Case No: B3/2016/1465

IN THE COURT OF APPEAL (CIVIL DIVISION)
ON APPEAL FROM THE HIGH COURT OF JUSTICE
QUEEN'S BENCH DIVISION
Mrs Justice Slade DBE
QB/2015/0490

Royal Courts of Justice
Strand, London, WC2A 2LL
Date: 21/12/2017
Before :

LORD JUSTICE DAVIS
LADY JUSTICE KING DBE
and
LORD JUSTICE IRWIN
- - - - - - - - - - - - - - - - - - - - -
Between :
(1) CN
(2) GN
(through their Litigation Friend The Official Solicitor)
Claimants/Respondents

- and -

POOLE BOROUGH COUNCIL
Defendant/Appellant
- - - - - - - - - - - - - - - - - - - - -
- - - - - - - - - - - - - - - - - - - - -
E.A. Gumbel QC and Iain O'Donnell (instructed by Leigh Day Solicitors) for the 
Claimants/Respondents
Lord Faulks QC and Paul Stagg (instructed by Wansbroughs Solicitors) for the 
Defendant/Appellant

Hearing date: 8 June 2017
- - - - - - - - - - - - - - - - - - - - -
Judgment Approved
Judgment: 
CN and Another v Poole Borough Council [2017] EWCA Civ 2185.rtf