(Family Division, Baker J, 1 August 2017)

Private law children – Temporary relocation – Application to take children on holiday to Iraq – Appeal

The father's appeal from a decision permitting the mother to take the children to Iraq on holiday was allowed.
---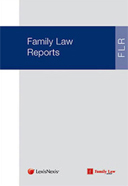 For comprehensive, judicially approved coverage of every important Family Division, Court of Appeal, Supreme Court and European courts case, subscribe to Family Law Reports.
Subscribers can

 

log in here.
Find out more
 or 
request a free 1-week trial
 of the Family Law Reports. Please quote: 100482. 
---
This judgment was delivered in private. The judge has given leave for this version of the judgment to be published on condition that (irrespective of what is contained in the judgment) in any published version of the judgment the anonymity of the children and members of their family must be strictly preserved. All persons, including representatives of the media, must ensure that this condition is strictly complied with. Failure to do so will be a contempt of court.
Case No: 2017/0098
Neutral Citation Number: [2017] EWHC 2034 (Fam)
IN THE HIGH COURT OF JUSTICE
FAMILY DIVISION

On appeal from the Central Family Court
HH Judge Tolson QC
BT15P00090

IN THE MATTER OF THE CHILDREN ACT 1989
AND IN THE MATTER OF MM AND RM (TEMPORARY RELOCATION)


Royal Courts of Justice
Strand, London, WC2A 2LL
Date: 1st August 2017 
Before:
THE HONOURABLE MR JUSTICE BAKER
- - - - - - - - - - - - - - - - - - - - -
Between :
AM
Appellant
- and -
DF
Respondent
- - - - - - - - - - - - - - - - - - - - -
- - - - - - - - - - - - - - - - - - - - -
Seema Kansal (instructed by Traymans LLP) for the  Appellant father    
Helen Nettleship (instructed by MW Solicitors) for the Respondent mother
Hearing dates: 26th and 27th July 2017
- - - - - - - - - - - - - - - - - - - - -
Judgment


Judgment:
AM v DF [2017] EWHC 2034 (Fam).rtf