(Family Division, Knowles J, 19 April 2018)
Public law children – Jurisdiction – Diplomatic immunity – Jurisdiction to make care orders
The judge found that the court had jurisdiction to make public law children orders but declined to do so in the circumstances of this case.
---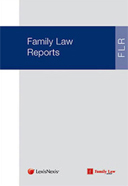 For comprehensive, judicially approved coverage of every important Family Division, Court of Appeal, Supreme Court and European courts case, subscribe to Family Law Reports.
Subscribers can

 

log in here.
Find out more
 or 
request a free 1-week trial
 of the Family Law Reports. Please quote: 100482. 
---
Neutral Citation Number: [2018] EWHC 874 (Fam)
IN THE HIGH COURT OF JUSTICE
FAMILY DIVISION


Royal Courts of Justice
Strand, London, WC2A 2LL
Before :
MRS JUSTICE KNOWLES
- - - - - - - - - - - - - - - - - - - - -
Between :

A Local Authority
Applicant

- and -
X
Y
D, S,
E And SL
(through their Children's Guardian)
Respondents
- - - - - - - - - - - - - - - - - - - - -
- - - - - - - - - - - - - - - - - - - - -
Mr Clive Newton QC and Miss Joanne Ecob for the Applicant
Miss Anna McKenna QC and Mr Christopher Poole for X
Mr Hugh Southey QC and Miss Markanza Cudby for D and S
Mr Sam Momtaz QC and Miss Kate Tompkins for E and SL
Mr Guglielmo Verdirame and Mr John Bethell for the Secretary of State
- - - - - - - - - - - - - - - - - - - - -
Judgment

Judgment: A Local Authority v X and Others [2018] EWHC 874 (Fam).docx